All units: today is the day we face the Steam fleet in outer space!  Our only goal is to get the Greenlight. So, we must find a way to get the support of the community and hit the target!
The most challenging shoot'em up of the Spanish indie scene is preparing to land on Steam.Only you, our most skilled and deadly pilot of the galaxy, can help the Delta Lance fighter ships to face the menace of the Meroptians, a race of biomechanical beings who attacked the star Omnios and put the whole galaxy in danger.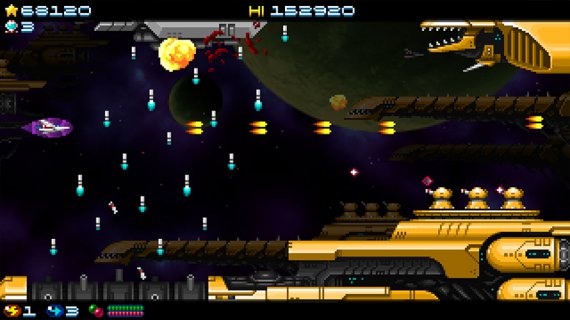 Super Hydorah is designed to offer a challenging and memorable experience, with the wisdom and richness of traditional shoot'em up classics like R-Type, Gradius or Turrican as its foundations. It's straightforward entertainment which dares the player in every stage; a wide set of different combat situations with unique content that will surprise you and keep you engaged for hours. Super Hydorah is a non-linear game, and there are alternative routes – with multiple endings for better replayability. You will have to become a true master of space warfare with your Delta Lance in order to unveil all the secrets and alternative routes of this intense shmup!
And that's not all: Super Hydorah features both single and cooperative multiplayer modes. In its intense co-op mode, you will work together with a friend to overcome the Meroptian threat!
If you feel like supporting us, please, visit our Greenlight page, log in to Steam and give us your YES. Help Super Hydorah get Greenlight!