"I have an empty void in my soul that only donuts can fill…" – Donatsu from Ninja Chowdown.
Donatsu is a cute chubby ninja whose story you follow in Ninja Chowdown. He loves donuts more than anything!
The Dough-jo Donuttery,  a food chain and a ninja dojo at the same time, is climbing to the top of the food chain… the top of the chain of world's food chains! Like every other one in this world, run by cuisine champions and competing food clans.  A strong flavor breeds an equally strong fighting spirit!
The adventure begins when The Traveling Rollnin's leader, Sushi Sam, steals the Know-nut, the Doughnut of Ultimate Knowledge, from the Dough-jo. And no one but Donatsu is skilled and badass enough to get it back!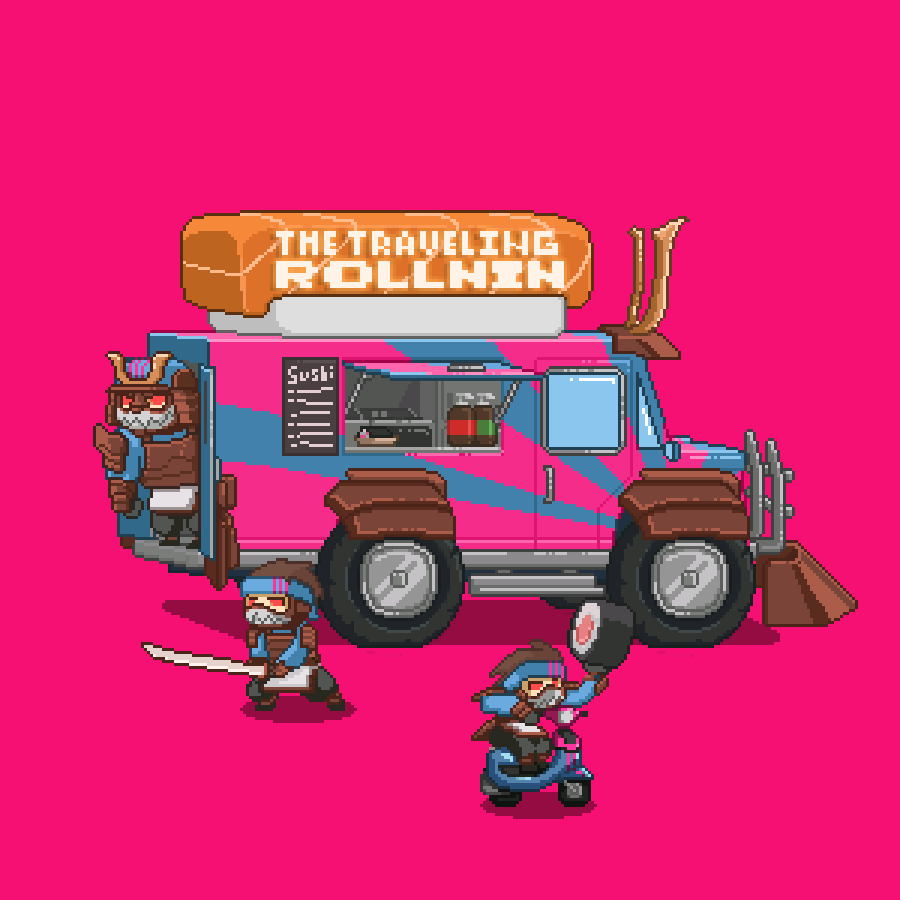 'A dish that you'll eat (well, play) for hours at a time and one guaranteed to make you keep coming back for more.'
 'Ninja Chowdown offers an entertaining and comical experience to players by combining the runner-style gameplay with the chubby 2D pixel art aesthetics of the game'
'It's enjoyable to watch and engaging to play, this is one of the best options you can find on Android right now.'
IOS™
Publisher: Abylight Studios
Developer: Dummy Dojo
Price: Free with ads ($2,99/€3,49 to disable ads forever)
Release: 3/12/2020
Available in: English, Spanish, French, Italian, German, Russian, Turkish and Portuguese
ANDROID
Modern 2D pixel art aesthetic
Food themed story with an emphasis on donut and ninjas!
Short levels, thrilling and humorous (30 seconds – 3 minutes)
35 levels and 3 play modes
Unique and funny characters
Pets, clothes and weapons to customize your adventure
Easy to pick up, hard to master
Haptic feedback
Game Center achievements and leaderboards
Fight your way to the top of the food chain of the world's food chains in this ninjas and food themed indie game! Enjoy 35 thrilling levels and 3 play modes: the Normal, the Grey, and All You Can Beat.
Designed specifically for mobile devices, Ninja Chowdown can be picked up instantly – but won't be easy to master. The levels have a varying difficulty, so that everyone would get the challenge they're looking for.  
Ninja Chowdown is free to play on the App Store. Remove the ads forever for $2,99/€3,49, and get 5000 coins to buy clothes, weapons and pets. 
Dummy Dojo is a game development studio based in Southern California, founded in 2019. They've made several small games, they know they still have a tremendous amount of growth ahead. So, at the moment, they  consider themselves "dummies" who are training hard to become better game developers. For more info, visit Dummy Dojo  website, their Twitter, or Instagram.