We're celebrating, mobile gamers! Ninja Chowdown pre-order starts next September 23rd, so we'll be enjoying Dummy Dojo's creation very soon. 
Android gamers, we have a question for you: are you looking for an addictive game both for its gameplay and for its aesthetics and charisma? The search is over, here is Ninja Chowdown! The pre-order begins this week to warm up the engines before the launch next October.
The game is completely free to download, but if you want to help Dummy Dojo (the team of developers) host their next company dinner at a fancy restaurant – and get rid of all the ads for good – we recommend you do it for only $2.99/€3.49.
Are you going to eat that?
It's time for you to meet our chubby friend Donatsu, who loves doughnuts – maybe almost as much as you do – but who strives to be a great ninja under Dango-sensei's watchful eye.
Everything was going normally, Donatsu could eat as much as he wanted without limits, until one day the envy of the owners of other restaurants decided to steal the Doughnut of Ultimate Knowledge to take their restaurants to success. 
So it's time to teach everything you've learned! Face Sushi Sam, Pierate Pete, Earl Grey and other villains who will try to get their hands on the Doughnut of Ultimate Knowledge.
Features
Modern 2D pixel art aesthetic 

Food themed story with an emphasis on donut and ninjas!

Short levels, thrilling and humorous (30 seconds – 3 minutes). 

37 levels and 3 play modes

Unique and funny characters

Pets, clothes and weapons to customize your adventure

Easy to pick up, hard to master

Haptic feedback
And what about languages? Don't worry at all, you can find Ninja Chowdown with texts in English, Spanish, French, Italian, German, Russian, Turkish, Portuguese from Brazil, Portuguese from Portugal, Japanese, Simplified Chinese, Traditional Chinese, Korean.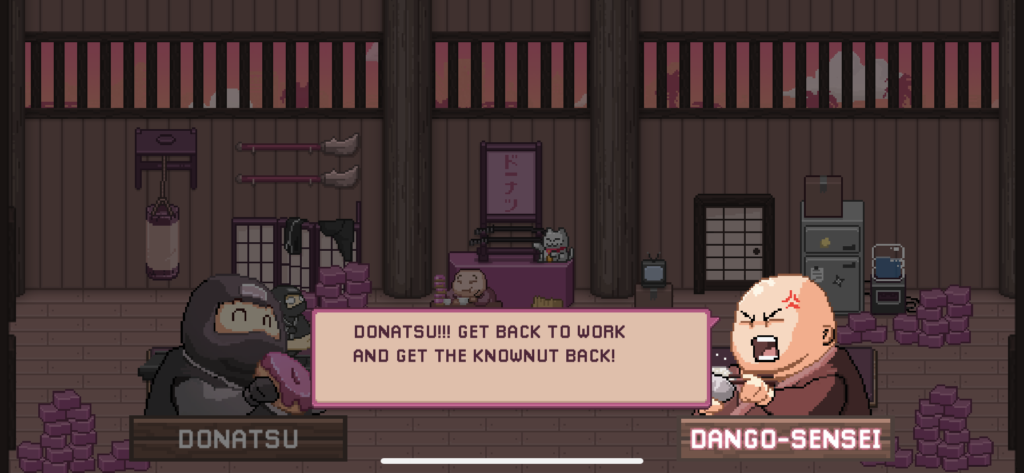 Look and touch
The overall look of the game is a modern aesthetic of bright 2D pixel art that will completely invade the screen of your Android phone where each character is designed to look like a cross between a warrior and a food worker. 
The world of Ninja Chowdown has been created through a combination of our (Dummy Dojo's and Abylight Studios') love of food and puns, and is reflected in the design of each of the characters, colorful objects and detailed background elements.
And the music is not far behind! There is no more magnetic combination than striking aesthetics mixed with dynamic music that motivates you all the time. Will you let yourself be carried away by the rhythm?
Easy to pick up, hard to master
Ninja Chowdown is not a walk in the countryside: you'll have to bring your hidden ninja skills to light and prove that you also have an insatiable hunger, because this game has come to Android to challenge you.
Like most runners, Donatsu will run automatically, but you will have full control over jumping as well as throwing shurikens. Don't forget that you have an ace up your sleeve, the Doughjutsu, which will make you invincible for a few seconds and bring back memories of classic shoot 'em up.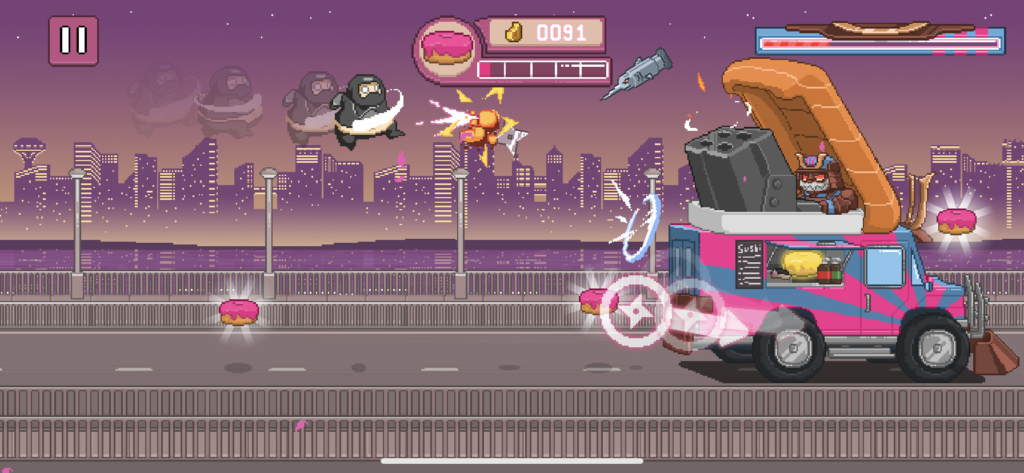 Who's behind Ninja Chowdown?
Dummy Dojo is the dev team behind Ninja Chowdown and they have only been doing this since 2019, although it seems hard to believe because of the awesome results! That's why they consider themselves as "Some dummies training to become better Game Developers".
That's what they wanted to convey through Ninja Chowdown and its chubby protagonist Donatsu, where Android players will be provided with very basic controls but a delightfully learning challenge, suitable and enjoyable for all levels!
From Abylight Studios are thrilled to have been able to work closely with this wonderful team of devs for this amazing game as Ninja Chowdown, but also it is the first game we are publishing on Android, which is a very special moment for us as Publishers and a bright future after our rebranding.
Is your passion for food as strong as your ninja spirit? Then don't forget to pre-order so you don't miss one of the best Android games coming next October.

And don't forget to check out your notifications in October for the release!
P.S. If you are an iOS gamer and want to play Ninja Chowdown…run to the store because it is available and free to download!