All units! Collector and Standard edition will release on March 9th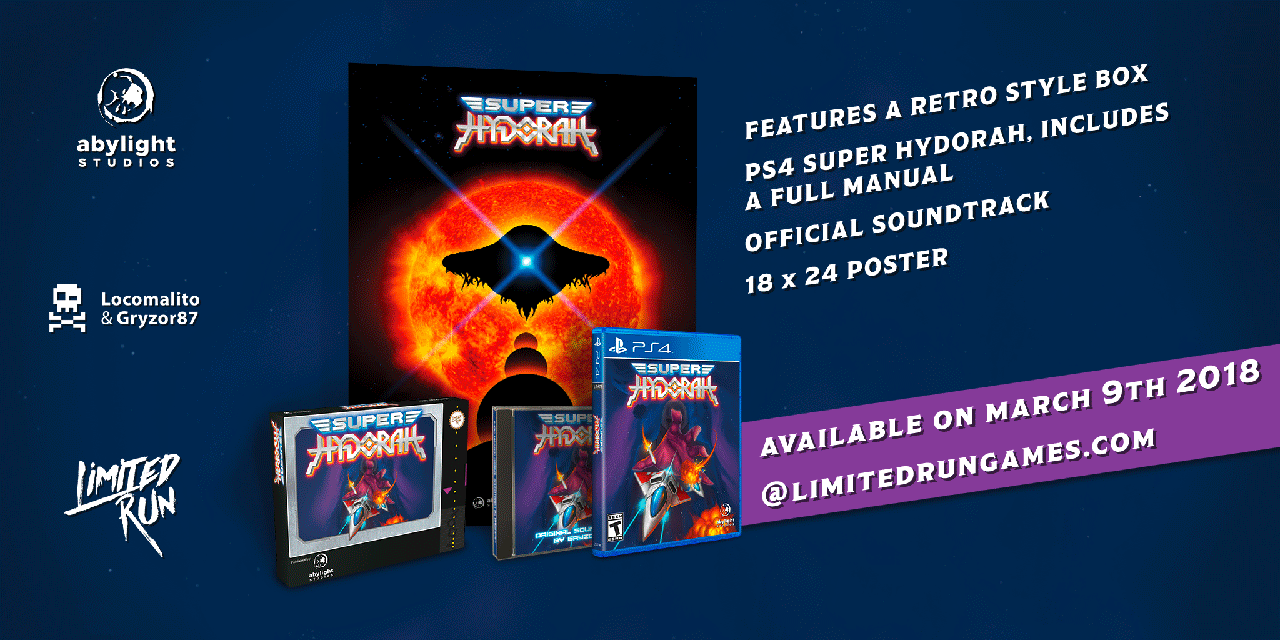 Abylight Studios and Limited Run Games have ​teamed up to ​publish a physical edition ​for PlayStation 4 of Super Hydorah, the challenging nonlinear shoot 'em up created by Locomalito & Gryzor87! Equip your ship and prepare to take off!
But be​ware pilot, this time won't be any reservations and the rules are not set by us, Limited Run will command here. However, Abylight will ​send a reminder email 30 minutes ahead of the release in each day before the sale is opened! Subscribe to our newsletter​! 
All the pilots willing to own their physical copy of Super Hydorah, the game that sublimates the richness and fast-paced action of traditional shmup classics, there will be 2 purchase options.
The Collector's Edition 54,99$:
Limited to 2.000 copies

A physical copy of the game for PS4 (region free)

A full color instruction booklet

A CD dedicated by Gryzor87 with the OST

An awesome poster inspired in the cover art


An amazing collector's box inspired in SNES style
The Standard Edition 29,99$:

A physical copy of the game (region free)


A full colour instruction booklet
The game will be available in two batches: first, 70% of the inventory at 10 AM (EST) and then the rest at 6PM (EST) on March 9th.
To learn more about buying through Limited Run, you can check their buying guide.