Don't despair, oh valiant knight: thee will have a new opportunity to save our land from this vile wickedness which endangers the Kingdom! After its success on Xbox One, Abylight and Locomalito are knightly happy to announce that Maldita Castilla EX will be released on PS4 in America, Europe and Japan (by FlyHigh Works as マルディタカスティーラEX ~ドン・ラミロと呪われた大地~). Final release dates will be announced very soon.
Maldita Castilla EX for PS4 will be playable for the very first time at the Tokyo Game Show (September 14th to 16th). If you are planning to attend the event, come by FlyHigh Works booth and check out Maldita Castilla EX!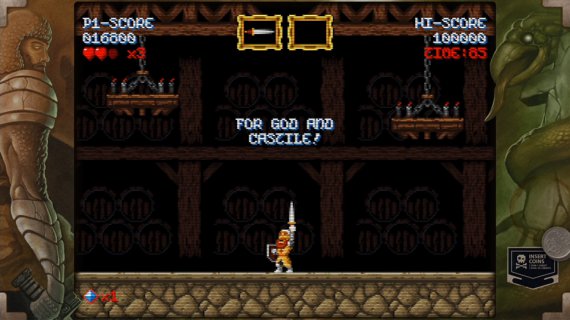 In Maldita Castilla EX you become Don Ramiro, a knight of King Alphonse VI of Castile, who faces a perilous mission: travel the cursed lands of Tolomera to fight and banish the evil invading the Kingdom. Set in the medieval Kingdom of Castile (one of the medieval kingdoms that in time would become present-day Spain), in Locomalito's game we won't face elves, orcs and goblins, but mouras, ojáncanos and nuberus: creatures from European folklore and legends, as well as from chivalric romances such as Amadís de Gaula.
This lineal action-arcade gathered unanimous recognition both from gamers and critics (with a Metascore 82), not only for its addictive gameplay, but also for being a double tribute: on one hand, classic arcades from the 80s such as Tiger Road, Shinobi or Ghosts'n'Goblins; and on the other hand, to European medieval history and legends.
Check out all the details about the new features of Maldita Castilla EX at our press kit!