The Drifter is getting more improvements!
Hyper Light Drifter is one of those games able to touch your heart with no words, leaving the whole weight of the narrative on the game's music and visuals. Because of that, there is an extra shot of pressure to bring maximum excellence to the game's performance.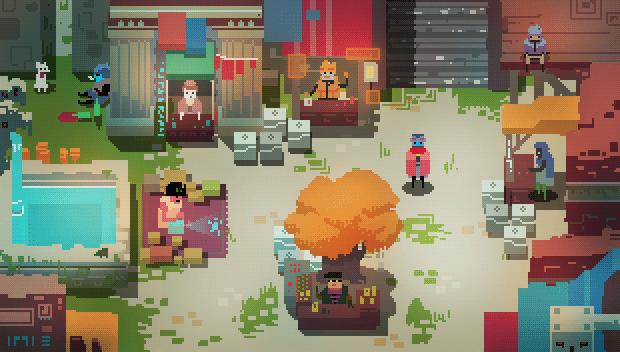 Here at Abylight Studios, we are very proud of our contribution to creating a solid experience running at 60 frames per second and adding Nintendo Switch exclusive content. However, we noticed a few bugs, graphics issues, and other inconsistencies after the release. In addition, we have received a bunch of suggestions and comments from the community to improve several features of the game.
After 5 months of hard work, here you have the result (so far):
Patch 1.1.0 – released August 28th, 2018
Improved game smoothness in some areas.

Some objects that could disappear near the edge of the screen now they don't unless they have to.

Fixed game speed changes between Handheld, Docked or Home Menu transitions.
Patch 1.2.0 – released October 19th, 2018
Improved smoothness in the Town area.

The character no longer falls when going down the platforms on the mountain.

Fixed graphics problems in the elevators of the Tower area.

Changed the control of the User Account to avoid losing game session data.

When a different controller is used it is now automatically assigned to the player.

The played time shown in the menu is accurate.
Patch 1.3.0 – released January 26th, 2019
Improved smoothness in some areas.

The character respawns after falling is more precise and leaves him as close as possible to the action.

Fixed a problem with the 'Forest Warden' boss at the end of the Tower area. Before, sometimes it did not leave the outfit after being defeated.

The game view is now more stable and doesn't jump suddenly in some areas.

The intro can now be skipped by pressing the A, B, X, and Y buttons simultaneously.

Controllers are no longer exchanged between the players when playing in cooperative mode.
Long live Drifter!
Abylight's Team