The time to face the menace that threatens the galaxy in Super Hydorah is approaching. Abylight and Locomalito announce from their headquarters the first launch platform for their expected shoot'em up. Super Hydorah will come first to Xbox One during this spring (final release date shall be announced soon). This hectic non-linear game will put your piloting skills to a test in a single player mode as well as in two players co-op frenetic action.
Thus, Xbox One will be one more time the launch platform for a game by Abylight and Locomalito after the success of Cursed Castilla. This acclaimed arcade has been considered one of the best Xbox One games in 2016 (Metacritic). Now, Xbox One players will be able to enjoy the space challenge of Super Hydorah sooner than anyone!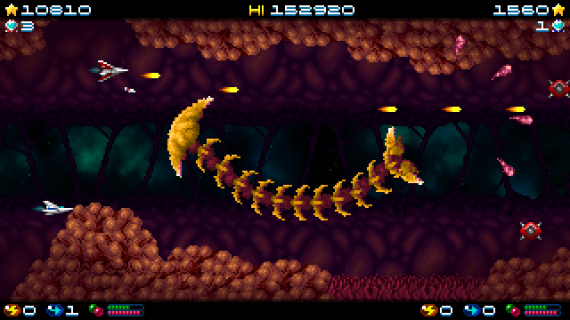 In Super Hydorah you take control of a Delta Lance fighter ship and face the menace of the Meroptians, a race of biomechanical beings who attacked the star Omnios and put the whole galaxy in danger. Super Hydorah is designed to offer a challenging and memorable experience, just as the traditional SHMUP classics did, and offers you a wide set of different combat situations and unique content that will surprise you and keep you engaged for hours. Super Hydorah is a non-linear game, and there are alternative routes – with multiple endings for better replayability. You will have to become a true master of space warfare with your Delta Lance in order to unveil all the secrets and alternative routes of this challenging shoot'em up!
And that's not all: Super Hydorah features both single and cooperative multiplayer modes. In its intense co-op mode, you will have to work together with a friend in order to overcome the Meroptian threat!