Play in landscape or portrait orientation, with a controller or with touch screen
Cursed Castilla, the acclaimed console arcade game created by Locomalito finally arrives to iOS in the most portable and better looking version ever! Download it on the App Store for $3.99, and join Don Ramiro on his mission to defend the lands of Tolomera against mouras, Ojáncanos, Nuberus and Malismos. Know who they are? Then, keep reading! (And get the game if you wanna see!)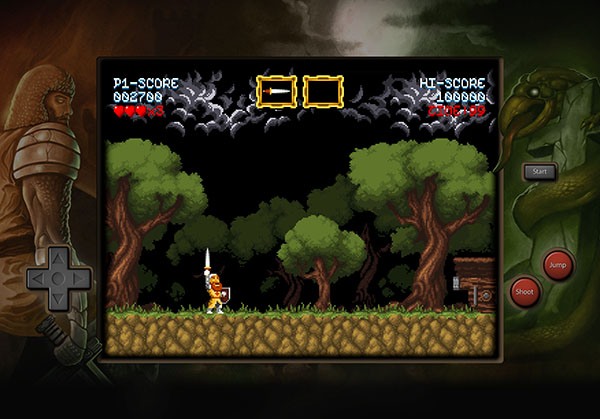 Called "a necessary experience that you will enjoy as you used to enjoy in the 80s or 90s" and "…a punishing but ultimately rewarding love letter to the classic action platformers…" by the press, Cursed Castilla brings the handheld device experience to iPhone and iPad, also allowing console gamers to use the controller of their choice. The arcade gameplay is framed with the immersive story inspired by Spanish folklore: in the game, you play as Don Ramiro, a knight appointed by King Alphonse VI, to fight and banish the evil invading the lands of Tolomera. And the mouras, Ojáncanos, Nuberus and Malismos, mentioned earlier, are creatures from the European folklore, as well as from chivalric romances such as Amadís de Gaula. For that, one will use a different range of weapons to defeat the enemies, in a pure classic arcade action style. The game has an illustrated bestiary, so you'll also know all the myths featured.
In Cursed Castilla for iOS, you explore Tolomera del Rey in depth through 8 game stages, and fight against more than 48 types of enemies and 19 final bosses. The epic soundtrack by Gryzor87 has over 58 different tracks: put your headphones on, and escape to Tolomera from wherever you are. 🙂
4 different endings are possible in Cursed Castilla, depending on mission success: no effort will be in vain!
Here's what else is possible in Cursed Castilla on iOS:
Haptic vibration
Compatible with MFi controllers.
Game Center achievements and leaderboards.
Play in landscape or portrait orientation.
Brag about your combat skills with 15 unlockable achievements
For God and Castile!
Want to keep track of Cursed Castilla updates and developments? Follow @Locomalito and @Gryzor87, and us @Abylight! And the official website of Locomalito is here.