This is not a drill: Hyper Light Drifter – Special Edition for Nintendo Switch now exists as the physical Collector's Set. Preorder today!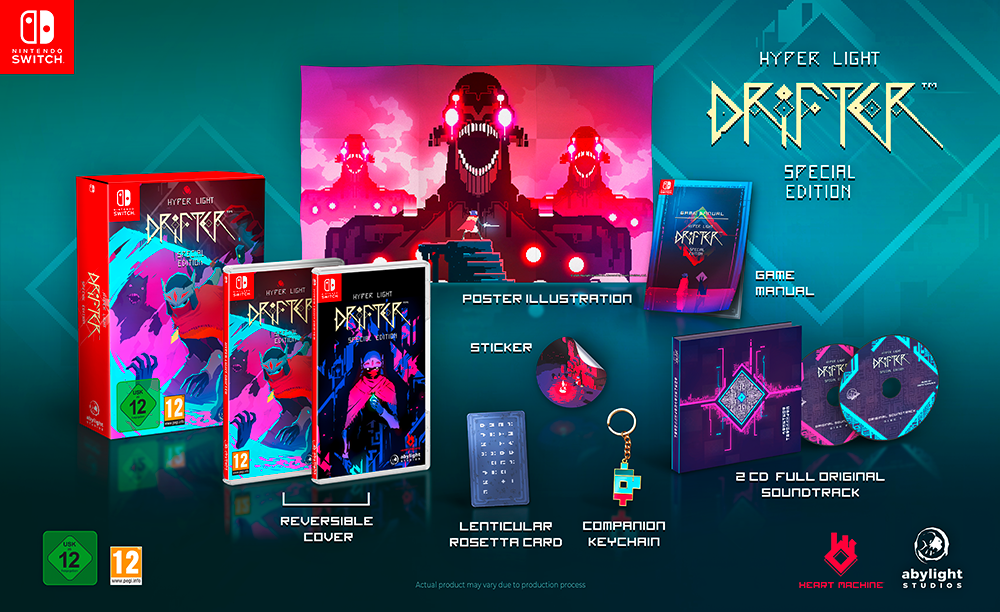 How do I get the Collector's Set?
You can preorder it at Abylight Shop, starting from 13:00 CET today, December 8th. The entire set costs €49,95.
Worldwide shipping is scheduled for January 2021.
To avoid customs delays and minimize shipping costs, we've partnered with Limited Run Games to distribute the Hyper Light Drifter physical version in the Americas.
What's included in the physical edition?
Game Card: the physical copy of Hyper Light Drifter Special Edition.
Poster: A full colour illustration sized 51 x 31 cm.
Keychain: The Drifter's Companion sized 4 cm.
Lenticular Card: A Rosetta Stone card to interpret the forgotten language of the land.
2 CDs: The original soundtrack by Disasterpeace.
Sticker: Circular sticker (6 cm diameter).
Manual: A full colour booklet of 24 pages.
Inlay: A reversible cover with 2 design options.
What's Hyper Light Drifter – Special Edition about?
Explore a beautiful, vast, and ruined world riddled with dangers and lost technologies. Echoes of a dark and violent past resonate throughout a savage land, steeped in treasure and blood. Hyper Light Drifter is an action-adventure RPG in the vein of the best 16­-bit classics, with modernized mechanics and designs on a much grander scale.
Hyper Light Drifter – Special Edition runs at 60 FPS on Switch and includes new exclusive content as well as all the previously released: remastered for a perfectly immersive gaming experience to play anywhere.