Drawing, knitting, baking, dressing up your cat: what's your quarantine hobby?
Ninja Chowdown fan art contest is where you put those skills to good use to win codes for ALL our iOS games!
And ALL participants' artworks will be features on Abylight's Twitter and Instagram!
Rules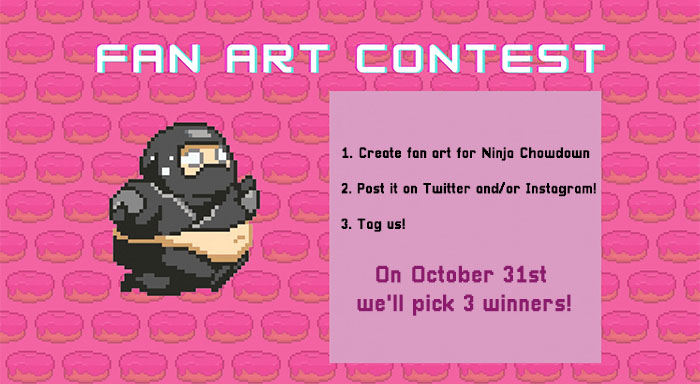 Win codes to all Abylight's premium games on iOS!
All these: the challenging indie hit of Hyper Light Drifter Special Edition, neo-retro arcade masterpieces Cursed Castilla, Super Hydorah, The Curse of Issyos, the first ever 3D game for Apple Watch – Mindkeeper: the Lurking fear, and the creative, cute, relaxing Qbics Paint!
Most support Apple TV and controllers: you get a console experience with the portable option on iPhone, iPad, and Apple Watch! (Mindkeeper).
Any art medium, any character of Ninja Chowdown!

From fine art and Perler beads to cooking, cosplay and TikTok videos: any genre of Ninja Chowdown fan art can be submitted for the contest. All participants' works will be featured on our Twitter and Instagram! (Don't forget to follow to know Ninja Chowdown release date!)
Donatsu, Dango-sensei, Donald, or the famous Pink Donut? You choose! The fan art can feature any character of Ninja Chowdown!
3 winners to be chosen on October 31!
Right, you can submit until the day of October 31.​
On this last day of #inktober, Abylight and Dummy Dojo will pick 3 winners:
 – the creator of the first fan art for Ninja Chowdown
– the most creative fan art piece
– the funniest fan art!

Questions? We're always online to answer! Just drop us a DM on Twitter or Insta if anything seems unclear. Can't wait to see what you come up with! 🙂