The wait is over: Ninja Chowdown has finally arrived to the App Store!
Caution! Addictive!
This funny, fast-paced, pun-sprinkled runner, designed by Dummy Dojo with love and lots and lots of sugar, and glazed with Abylight's expertise of bringing hit games on iOS, will 100% make you smile and crave donuts.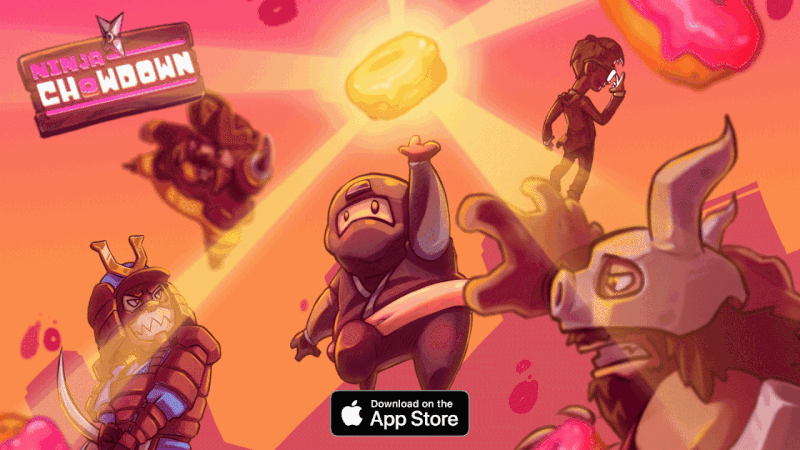 Donatsu is the chonky and agile ninja who loves donuts more than anything – and unfortunately has to share them with customers of the Dough-Jo, a donut shop at daytime and a ninja dojo at night. Training, snacking, and fighting for Dough-Jo's title of the best food chain: this was Donatsu's life until… until Sushi Sam, the Travellin Rollnin leader, stole the Know-Nut, the Doughnut of Ultimate Knowledge! Will YOU be able to get it back?
Made with mobile in mind
Ninja Chowdown has been designed specifically for mobile platforms. It has all you're looking for in a runner game, just better: more challenging, more immersive and more polished.
The simple and straightforward controls and obstacles make the challenge more inviting, but never boring. Let's have a look at the features!
Features
 A special roulette that you can play to earn a super doughnut that gives one hit immunity
Modern 2D pixel art aesthetic
Food-themed story with an emphasis on donuts and ninjas!
Short levels, thrilling and humorous (30 seconds – 3 minutes)
35 levels and 3 play modes
Unique and funny characters
Pets, clothes and weapons to customize your adventure
Haptic feedback
Game Center achievements and leaderboards
Languages supported: English, Spanish, French, Italian, German, Russian, Turkish, Korean, Japanese, Traditional Chinese, Simplified Chinese, Portuguese (Portugal), Portuguese (Brazil).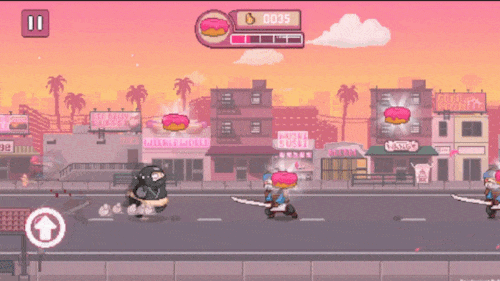 Ninja Chowdown is available on the App Store for FREE! There are some ads, which you can disable forever for a single payment of $2,99/€3,49.
The game works on iPhone and iPad models with iOS 13 or newer.