Greek myths would make awesome plaformers, – Locomalito thought when he was a kid. It was just a matter of time that he brought this idea to life as The Curse of Issyos, an epic neo-retro platformer adventure of a fisherman on the quest to save his only daughter.
The Curse of Issyos is now available for preorder on iOS at a special discounted price of $1.99! 
App Store link: https://apps.apple.com/us/app/the-curse-of-issyos/id1500724078
The game will be released on April 30th: preorder now to start your adventure the moment it hits the App Store!
The nostalgic look and feel of the late 8-bit era, original soundtrack by Gryzor87, enhanced by the already traditional Locomalito + Abylight level of polish: you'll find all this in The Curse of Issyos. As well as a good bunch of enemies and bosses, linear and open scroll levels, secrets to discover, and a background story inspired by Greek mythology.
Without trying to mimic any specific retro system, the game is coherent with its own limitations in the use of colors, sprites and chip sounds.
What happened, and who do I save?
Defkalion was fishing at the quiet blue sea when he heard the voice of goddess Athena. "Hurry up", she said. "The Isle of Issyos has been cursed by the Olympus!"
And so, fearing for his daughter Delia, his only family left, the fisherman sails back to his home, where the adventure is about to begin.
Enjoy the 7 locations, 9 challenging bosses, over 40 unique and extra angry enemies – and 2 different endings depending on your decisions.
The Curse of Issyos supports iCloud, allowing you to start playing mobile on iPhone and continue to a portable console experience on iPad with a controller. This game supports MFi, Xbox One, or PS4 controllers,  and has haptic vibration, Game Center achievements and leaderboards.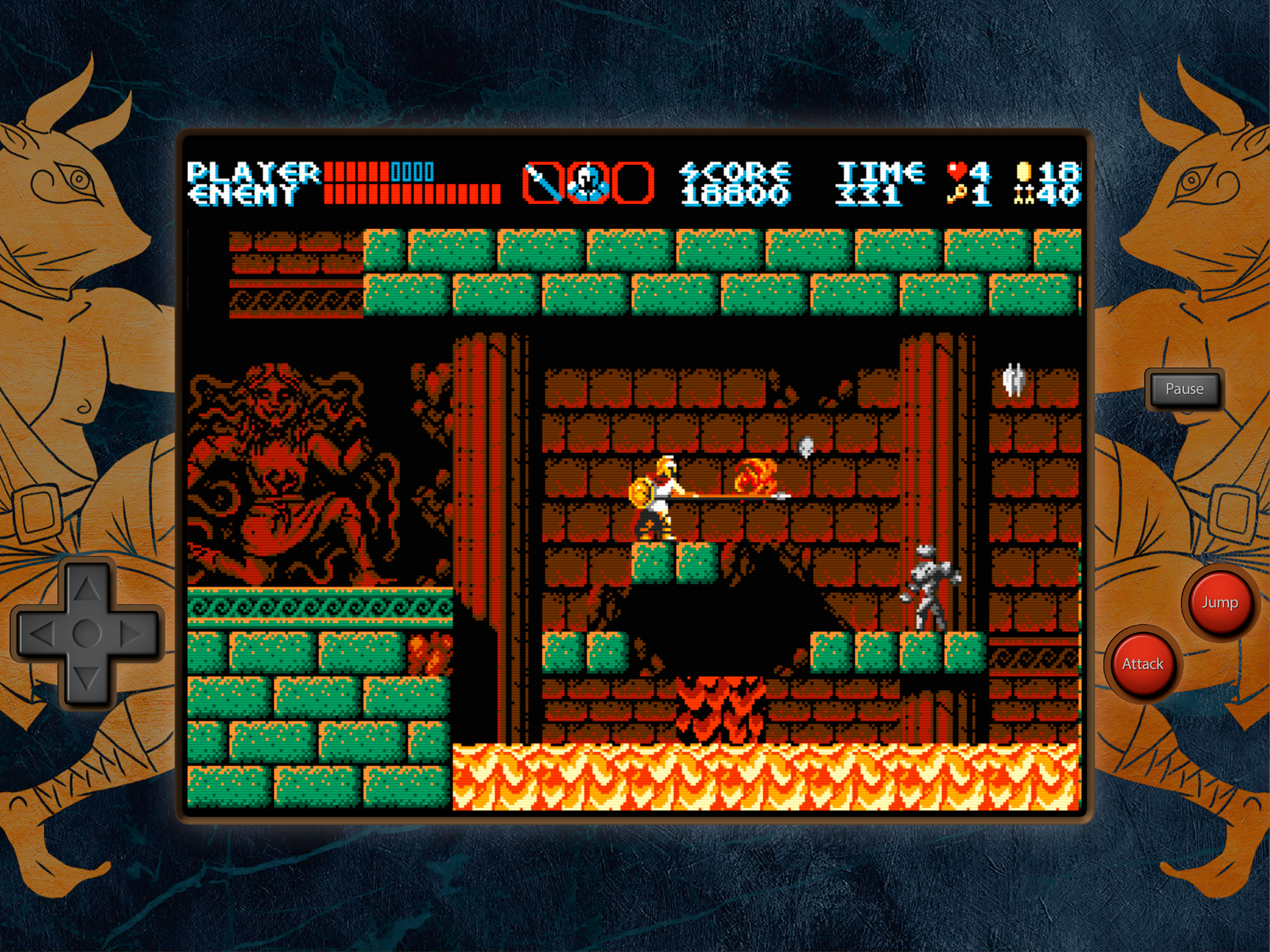 More features:
Compatible with MFi, XBox One and PS4 controllers.
Haptic vibration.
iCloud support.
Game Center achievements and leaderboards.
Play in landscape or portrait orientation.
Look and feel of a console game from 1987-1988.
Based on Greek mythology.
30+ original music tracks by Gryzor87.
7 levels, 9 bosses and more than 40 unique enemies.
A secret level that can change the outcome of the game.
Around 45 minutes of gameplay (once fully mastered).
And what's behind this game?
The Curse of Issyos was inspired by the movies of the special effects titan Ray Harryhausen and 8-bit games like Vampire Killer, Rastan, Kenseiden, Rygar, 8 Eyes or Ninja Gaiden.
Locomalito recalls a mature bearded protagonist in a video game was a rare occurrence when the development of The Curse of Issyos started. Then came the rise of hipster fashion…
While the trends keep changing, the atmosphere of the game, made of the uncommon combination of visuals, sounds and carefully designed playability, stays relevant at any time, keeping the old fans entertained since the original release in 2015, and getting more gamers into its unique world where Ancient Greece meets retro gaming.
Abylight has again polished the game to bring the best experience to users of Apple devices, now supporting controllers, touch controls and saving progress via iCloud.
…are YOU prepared for your Greek epic retro adventure?